Along with being a celebrity with one of the most beautiful eyes in Hollywood, there's something else about this striking actress, who has been on our radar since True Detective. While she didn't have the same struggle as actors with little to no resources (she grew up in a rich and influential family from NYC) Daddario has a true passion and dedication for acting. Here's everything you need to know about the Baywatch star and her transformation through the years. 
1. Her dad is a famous politician
Alexandra Daddario's father is Richard Daddario, a powerful politician and lawyer who led the NYPD's counterterrorism unit for three years, from 2010-2013. He doesn't have the best reputation, since he resigned after a controversial surveillance program became public. Alexandra's granddad was also a politician who ran for governor.
2. She began acting at 10
At this tender age, Daddario was spotted by a manager who was attending a play she had the pleasure of performing in. They liked her look and wanted to sent her out to commercial auditions. Fortunately, her parents saw the value in Alexandra's potential and allowed her to take acting lessons.
3. She lived the real life Gossip Girl
Alexandra Daddario's siblings are also in entertainment — one is an actor, while the other is an influencer. The three of them grew up in the Upper East Side, and thanks to her wealthy background, she attended New York City's famous Brearley School. 
4. Her first TV appearance as a teen
When this star was just 16 years old, she earned the role of Laurie Lewis on All My Children in the year 2002. This tiny appearance gained her roles on bigger shows like Law and Order and The Sopranos. At the same time, she began to attend the Professional Children's School, which provides a unique learning environment for children who also happen to be working actors and actresses.
5. Her breakout role was True Detective
When the world fell in love with HBO show True Detective, they also fell in love with Alexandra Daddario and her steamy role in the show. She played Woody Harrelson's mistress, and accidentally became the true star of the show. She was first meant to audition for a smaller role, but her read was so bold, she got more screen-time.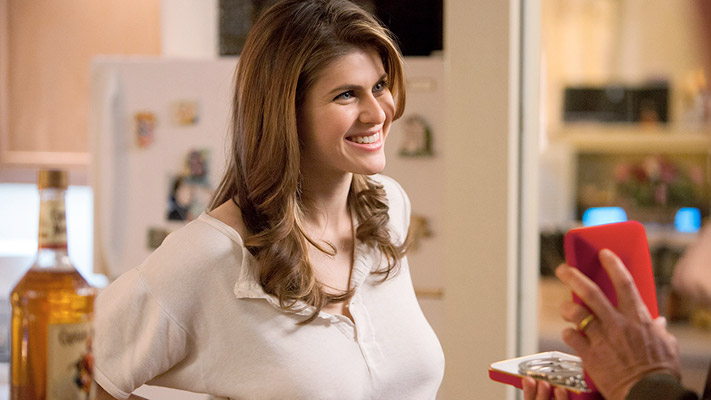 6. She works consistently
Unlike some other A-listers in Hollywood, Alexandra is always working. She works on an average of 3 movies a year. In 2021, she turns 35 years old, and has starred in a whopping 30 films and over 20 TV shows! While she's known for those sweet baby blues, she always puts a focus on portraying strong female role models on screen.
7. Her coworkers vouch for her
As we previously mentioned, Alexandra is a consistent worker. That means she takes her craft seriously, and here's further proof. When she worked with Woody Harrelson on True Detective, the actor commended Daddario's hard work ethic, focus, and overall open-mindedness to trying everything. 
8. She's with a mystery man
Who is Alexandra Daddario's Mr. Big? We might never know. But on May 13, 2021, she posted a B&W image of an unrecognizable mystery man, with the caption,  "It was dark and cold and rainy today, a terrible combination, and it didn't make it warmer to wrap him up in my arms but it did make it all seem lovely and nice and joyful." A thriving relationship and a secret beau — she really does have it all!
9. She produced a film she starred in
One of Alexandra's best performances was in We Summon the Darkness, and she actually was a producer on the dark horror comedy, which many people are surprised and impressed by. In the film, a group of friends meet a trio of seemingly cool fellow party animals, but when they head to a remote country house, things get dark fast. Daddario has previously been quotes talking about how she loves the horror genre, She's featured in both American Horror Story: Hotel and Texas Chainsaw 3D.
10. Shooting a pandemic themed film during the pandemic
During COVID, Alexandra Daddario shot Songbird, a pandemic-themed film produced by Michael Bay. It explores a world in which a second (and more deadly) infection comes back and rears its ugly head. Anxiety inducing, much?
11. She quarantined with her BFFs and dogs
Before heading back to her busy acting life, Daddario quarantined at home in Los Angeles with two of her closest friends, and her dog Levon, who she got six years ago. She's also a vocal pet advocate who has a partnership with Subaru to spread awareness for shelter pets.