Fashion in the 1980s was all over the place: shoulder pads, puff-sleeves, permed hair, crimped hair, scrunchies, lots of denim, chunky and colorful accessories, leg warmers, all of these are just some of the trends that were popular during that decade. So how does one even begin to wear all of that and not look like a joke? Well, here are some of the celebrities that really managed to make 80s fashion look good and pull it together into cohesive, stylish outfits. 
1. Sarah Jessica Parker 
Sarah Jessica Parker has always been a very stylish celebrity, so it's no wonder that in the 80s she was thriving. She combined all of the top 80s trends in one look. A messy curly ponytail, tied up with a big scrunchie, 80s blue jeans, and an oversized blazer and those sparkly shades complete the look perfectly.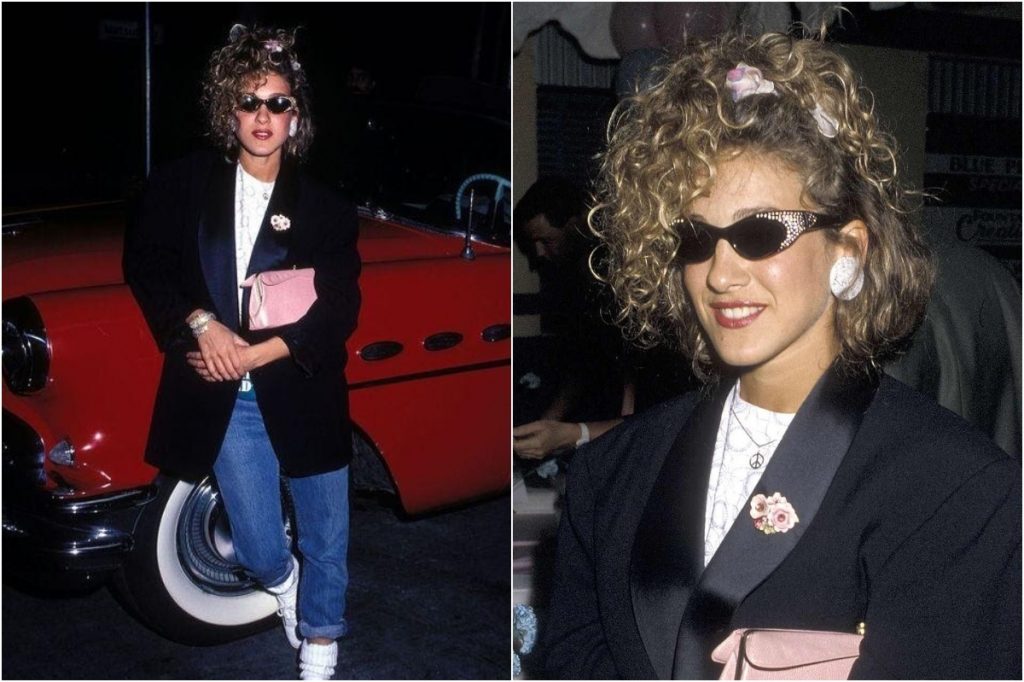 2. Christy Turlington
Christy Turlington was all about dressing to impress. Just look at that cream suit, it's such a power move. But even the look on the right says "I might be going for the casual look but I mean business." This girl could show up at a company and say she's their new boss and no one would question it.
3. Joan Jett
Being a rock star in the 80s meant a lot of interesting outfit choices. The singer of the Runaways was doing pattern clashing before it became mainstream, and yes, she's wearing all the accessories at once. Alternatively, we like to think of her pink leotard look as a low key outfit. You know, minimum effort – maximum results.
4. Demi Moore
Few people remember this, but before Demi Moore became this slick lady who wears figure hugging dresses, she spent the 80s in oversized blazers and with bangs. But crimped bangs are definitely a brave choice, even in the 80s. The crimped look is actually making a comeback, so take note, ladies.
5. Princess Diana
Princess Diana was very chic. This puff-sleeve blouse looks absolutely stunning on her, and belting it to cinch in the waist was a very popular thing to do in the 80s. The red velvet dress with an open back and a pearl necklace trailing down her back has to be the hottest thing a royal family member has ever worn. 
6. Cindy Crawford
Cindy was definitely a fashionista in the 80s, yet no matter what she wore she managed to look both hot and classy at the same time. Perhaps that's just cause she's Cindy Crawford. Black mini skirt and a shiny cropped leather jacket? Yup, she looked smoking hot. And would you look at that red skirt suit? She looks like the most beautiful business woman ever.
7. Madonna
Madonna has been pushing the envelope with her fashion choices for literally decades now, but if you mostly think of her as wearing revealing things – think again. This is Madonna in the 80s and while she's being provocative with her heavy dark makeup and a red lip, her fashion style is very much "more is more". She doesn't just wear a necklace – she wears a dozen at once. Same goes for bracelets and all sorts of accessories. 
8. Julia Roberts
This oversized blazer with cycling shorts wouldn't look out of place in 2020, right? Funny how cyclical fashion really is. We also love that she chose to wear a massive 3 piece suit to accept this award and still looked so feminine in it. Only Julia Roberts could pull something like that off back in the 80s.