Every year, the beauty industry makes more advances in technology, bringing us innovative products that both enhance our natural beauty and transform us. From Artificial Intelligence-based processes to science-backed miracle ingredients, here are the most creative and stunningly designed beauty products to watch out for. 
1. Benefit Cosmetics They're Real! Magnet Extreme Lengthening Mascara
Complete with a magnetic mascara wand, Benefit designed this revolutionary mascara that elongates like no others. Due to an event called ferromagnetism that's just like adding fibers, the particles volumize lashes and make them longer.
2. GHD Unplugged Style Straightening
This cordless flat iron makes straightening and styling way easier, thanks to this 6-inch wand that can continuously style for 20 minutes at 365 Fahrenheit – without needing an outlet or worrying about being tangled up and getting burned. It's truly portable and effective – especially on windy days. 
3. Atolla Ritual Plan
Say goodbye to choosing skincare products based on generic skin types. With Atolla, you take a detailed quiz, including your zip code, which the company pulls pollution, water quality, and humidity data on, as well as sun exposure. It then sends you all of your perfectly customized products as well as paper strips for measuring moisture levels, pH, and oil. The strips are meant to be placed on your T-Zone, and depending on what color they change to, Atolla reformulates your next batch of products according to its needs.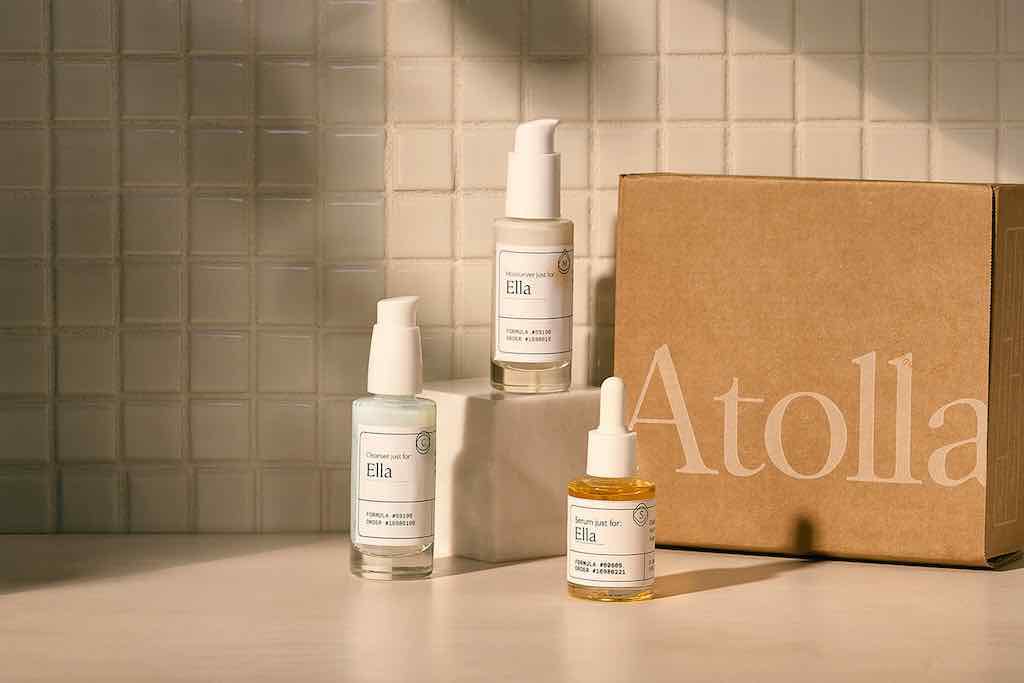 4. One Ocean Beauty
It's not just one product from One Ocean – it's their whole sustainable brand philosophy. Powerful marine ingredients like algae and kelp are effective but disrupt sea life and its precious ecosystem. This brand uses blue biotechnology to get their ingredients, allowing them to derive these molecules from live marine microorganisms, reproducing them in the lab by bio-fermentation. Hence, they're minimally invasive to our underwater friends. 
5. Vegan Beauty ModCon Liquid Gel Blush
His unique blush has an in-between texture that people are obsessed with – resulting in a natural, dewy glow (no more caked-on looks that age) that's somewhat between a gel and liquid. It's a 100% vegan formula that never streaks and is both sustainable and gorgeous when applied. 
6. NuFACE Trinity® Complete Facial Toning Kit
it might cost a pretty penny, but it sure beats paying for botox treatments regularly. Using electricity, this micro-current device can smooth skin, remove wrinkles, and define facial contours – in a study, up to 80% of people who used the device experienced these wonderful side effects. Beats going to facials and other expensive wrinkle solutions!
7. Upneeq
You can use white eyeliner to brighten all you want, but there's no real way to fake looking awake besides non-invasive procedures and surgery. That is – until Upneeq. These prescription eye drops deal with sagging and drooping eyelids by using their active ingredient to stimulate receptors on the muscles, causing a contraction.
8. Neutrogena Hydro Boost Night Pressed Serum with Hyaluronic Acid
Although you can find it in drugstores, there's nothing average about this unique serum. We know the moisturizing benefits of hyaluronic acid, but what exactly is a pressed serum? In an essence, it feels like a cloud, leaving skin glowing rather than shiny. Using polymers, this cream is able to achieve a cushiony feel that blends the benefit of a serum, a putty, and a jelly – without clogging pores.
9. Christophe Robin Cleansing Volumizing Paste With Pure Rassoul Clay and Rose Extracts
This is a revolutionary way to pamper and volumize your hair. It's a paste activated with pure rassoul clay and rose extract – just apply to your hair in the shower – it'll melt into an airy, decadent foam that effectively softens your dry ends while polishing roots and imparting a dreamy rose scent. 
10. Fat Water Pore Refining Toner Serum
Designed by the team over at Fenty Skin, this Fat Water Pore Refining toner Serum defies all the laws of serums and toners. It's actually a hybrid of the two – the texture feels thicker, like a serum, but when it spread and dries, it takes on the properties of a toner, without stripping skin.
11. Chantecaille Anti-Pollution Mattifying Cream
This lightweight, mattifying moisturizer does more than fight oil while hydrating. It protects your skin against pollutants such as blue light, dirt, and all kinds of yucky stuff that you probably don't want to know about. For those with oily skin, it's a godsend. If you have dry skin, you might want to layer it like you would a serum.