Although some trends are timeless, most of them end up being fashion fads. The idea of what's "in style" is always changing, and when you look back at things from different decades throughout time, a lot of them look, well, ridiculous. From conservative looks to excessively revealing ones, these are the tackiest trends that were once considered to be the hottest look out there.
Scarves on scarves 
No matter what kind of weather it was, scarves had a serious moment back in the day — both indoor and outdoor. From loud statement colors to patterns like stripes and polka dots, these scarves often clashes with outfits. Today, they're seen more as an accessory that complements an outfit neutrally or keeps you warm, rather than standing out.
Pants with an excessive amount of pockets
Cargo pants especially suffered from this, but it was really all kinds of baggy pants, which were trendy from the 80s up until the early 2000s. They were the opposite of trendy and made everyone look like they weighed more than they actually did. JNCO jeans were the worst of it. Nobody really used these extra pockets, but they were somehow considered cute back in the day.
Leggings with shorts, skirts, or dresses
Today, more than a few people would raise an eyebrow at this combination. These things are usually worn on their own, nowadays, or with tights, and can look a little chaotic and busy when combined. Today, leggings are a whole trend on their own!
Leg warmers
These unique pieces of leg wear first went viral in the 80s, when fitness icons and actresses like Jane Fonda wore them all the time. They were frequently paired with leggings and bright colors, and while they were designed for actresses, lots of girls and women wore them with sneakers, boots, and flats. Some even wore them on their arms!
Layering lots of bracelets
Today, it's all about a single bracelet or a few minimalist bangles at the most. But women used to wear tons of different bracelets, sometimes similarly styled, and sometimes, completely different from each other. From silicone bracelets to chunkier monstrosities, this accessory was everywhere, once upon a time.
Hair feathers
It might be common to wear hair extensions today, but you won't see too many women wearing feathers in their hair. Although models, celebs, and fashionistas alike both wore these nature-inspired accessories in their hair a couple of decades ago, more modern looks have replaced it. 
Netted/mesh clothing
From mesh shirts, dresses, sleeves, and other clothing that looked like nets, this style was a way to layer textures and look punk rock back in the day. However, they unraveled easily and were a hard garment to maintain. Today, these looks would be considered beachwear only.
Bandana shirts
Tube tops and sleeveless shirts are still being interpreted in new and creative ways, but bandana tops were definitely a thing in the 90s. I mean, they could perfectly show off a belly ring and be paired with those baggy pocketed jeans, so why wouldn't you wear them? Plenty of girls also wore them with low-rise jeans for a cringe-worthy combination.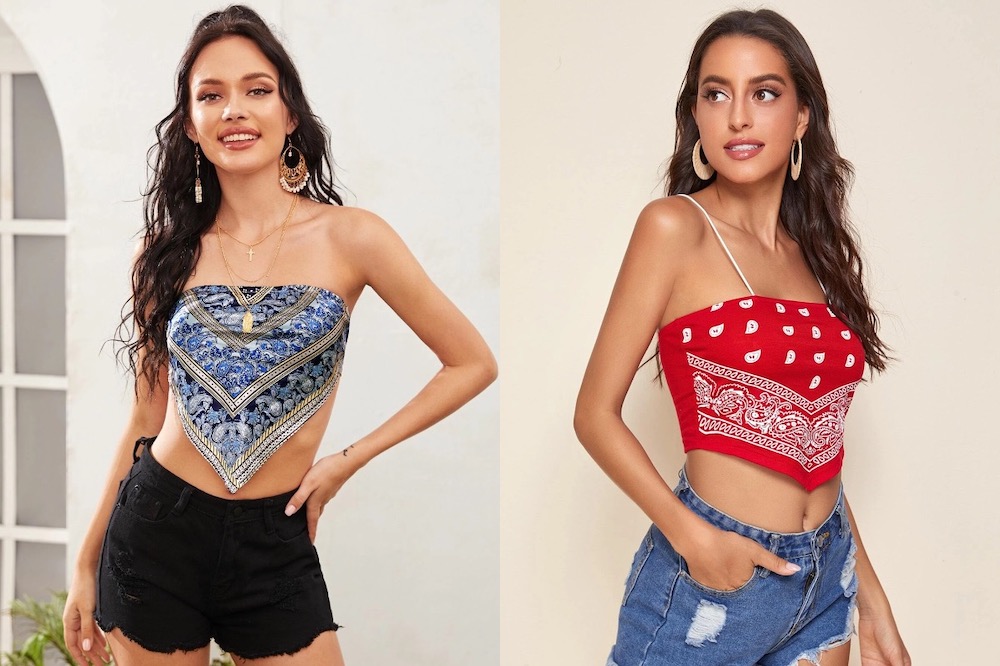 Wedge sneakers
In the mid 2000s, everyone had a pair of wedge sneakers, but they're not exactly at the height of popularity in the fashion world today. They were a solid way to add height while maintaining the sneaker look, and being comfier than a heel. But today, it's more common to see chunky retro sneakers or different kinds of running shoes.
Designer trucker hats
Remember when Von Dutch hats were all the rage? They were overpriced, ugly, and in your face. But we never saw these hats make a comeback — instead, they slowly phased out of existence. Everyone who owned one of these will probably admit to being embarrassed by it. 
Furry boots
Everyone may own a pair of Uggs in the winter when they're feeling lazy and just want to stay warm, but rarely will you see a pair of furry boots, which were poplar around the same time that Moon Boots were. Snooki popularized them back in the day, and other celebs rocked this bizarre trend too, strangely enough.
Platform flip-flops
Platform flip-flops were popular around the time that the Spice Girls were considered relevant, and if you grew up back in the 90s, you probably owned a pair. They were an uncomfortable recipe for a sprained ankle, and looked ridiculous too.