One thing is for sure when it comes to Billie Eilish — she likes to stand out from the crowd. Her style is a beautiful, chaotic collage of different fashion looks, and every outfit is memorable. If it's baggy and colorful, chances are she's worn it. However, there are certain outfits that have helped solidify her as an androgynous fashion icon in our eyes. Here are Billie Eilish's best looks to date. 
1. This is one of the more subtle color choices Billie has made over the years. She wore this head-to-toe silk green Gucci outfit to the 2020 billboard Music Awards. The matching bucket hat and mask on the singer were some serious icing on the cake. We're living for earthy Billie, but hope she doesn't lose her love for neon.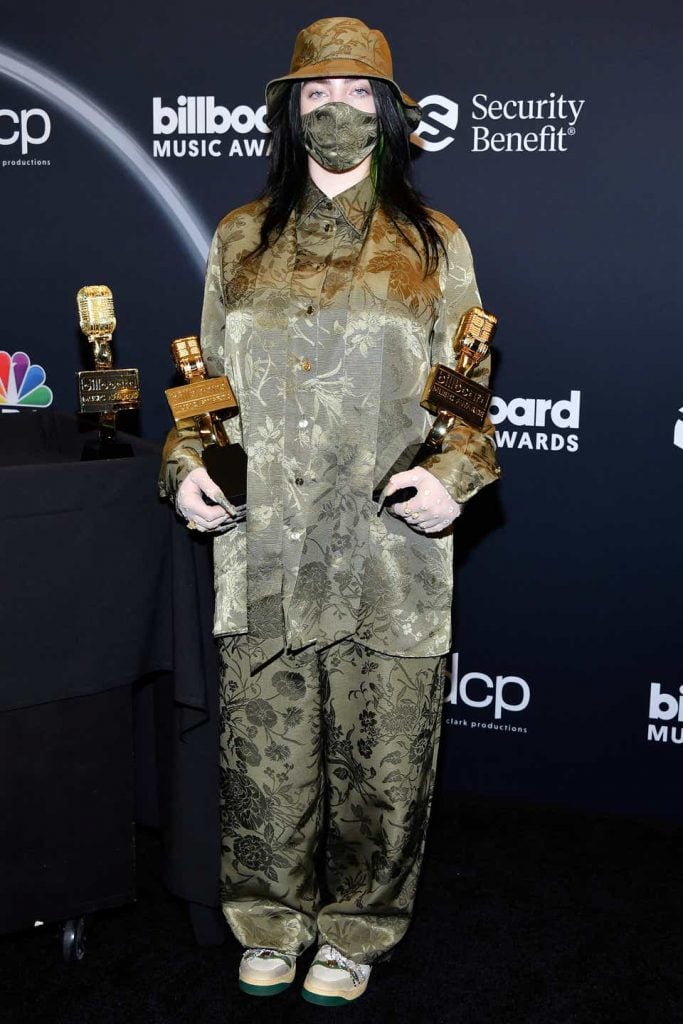 2. Eilish was once quotes saying "I want layers and layers" because she wants to be mysterious, with no one else knowing what's underneath. This floral 1970s inspired look definitely accomplishes that, and the Autumn color scheme with oversized flowers is everything — especially the slouchy white turtleneck on top that inspires us for days. 
3. Her love for anime is part of what makes the singer so complex — so is her ability to snag the most unique and unexpected outfits that work it in as a theme. This Sailor Moon outfit is tomboy chic, with below the knee shorts and a loose black button up. Accessories are flawless as always. Especially that spiked choker.
4. The queen of mixing aesthetics opted to for a more monochrome look this time. The all-khaki outfit is by Prada, and gives us crazy uncle vibes in the best way ever. Oversized Gucci sunglasses finish off the look. She wore this outfit to the 2019 Billboard in Music event, and makes us wonder if we could get away with wearing an outfit like this to a red carpet event. 
5. Color is one of the things Billie is most known for, and the pandemic has really given her a chance to flex her mask and bucket hat matching drip. Seriously — masked fashion was made for her. This is a rainbow-soaked Louis Vuitton sweatsuit that was worn in March 2019 for an immersive pop-up experience for her album. 
6. Bright orange isn't a color that most people opt for, but Billie never shies away from bold looks, and wore this to Jimmy Kimmel Live in 2019. We would never think to pair black straps and buckles with an orange sweatshirt and cargo pants. Anyone else would look like a Halloween pumpkin, but with Billie's confidence, she rocks it with ease. 
7. This completely neon look she wore back in 2018 is memorable as a whole, but we can't get that jacket out of our heads. Are extra long sleeves going to be a thing now? With an imaginative face silhouette on one size and compartment-style pockets on the other, we absolutely need this outfit in our wardrobes. 
8. Some Billie Eilish looks make it look like she's an escaped mental patient, and we're kind of obsessed with it. This white and red look is a take on a strait jacket, with hanging crimson ropes over a loose white suit. Straps as an accessory will probably enter the mainstream sometime soon, given the explosive trend-setting nature of Ms. Eilish.
9. Normally, Eilish's looks are too intense to recreate, but this laidback blue look (with hair to match) is a dreamy lesson on how to make your eye color pop more. We adore how she's normalizing comfort on the red carpet, instead of tight corsets and stilettos. Honestly, she's probably comfier than most of the men attending!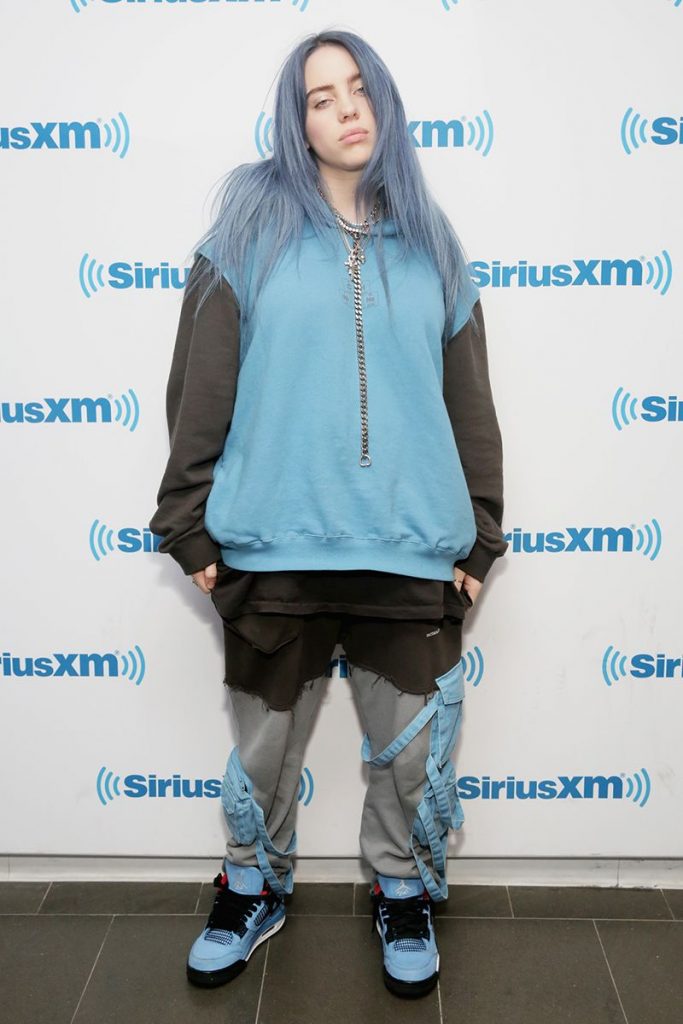 10. If you're like us, you agree that Powerpuff Girls need to immediately make a comeback, and Billie Eilish clearly agrees as well, since they're painted on her safari-inspired outfit. She even integrated a Powerpuff hairstyle into her look with those space buns.
11. Worn to the 2019 American Music Awards, this red carpet outfit served up glamorous beekeeper, and was 100% custom Burberry. At this point, she has to be their muse! Matching boxy shirt, pants, and shoes are giving a bit of bedazzled glitz with this sheer undershirt and mind-blowing bonnet/mask combination. 
12. Girls wearing Chanel are usually in waist-pinching, skin-baring looks. But of course not, when it comes to Billie. She made Chanel skater-chic, like the rockstar she is. This oversized outfit was worn to the 2020 Oscars, with sneakers and a long, claw-like black manicure.