Being dark-skinned and finding makeup that works for you is way harder than it should be. While brands like Fenty Beauty gas made makeup access for BIPOC more accessible, it can still feel impossible to find the right tones to both complement and match your natural shade. Here are the ultimate hacks from the pros to make your gorgeous skin tone shine like the gem it is. 
1. No frosted lips
It can be tempting to want to return to this early 2000s trend, but frosted makeup truly does nothing for dark skin. It actually looks too dramatic. Instead, opt for a solid color, which will make for a richer and more sophisticated look, highlighting your lips in a more positive way. 
2. Avoid the red blush, play with darker colors
If you have darker tones, you can play with deep brown, plum, and brick toned blushes that fair-skinned people can't pull off. These looks are luscious and romantic on all shades of brown and can accentuate cheekbones and other features, even doubling as a highlighter at times. 
3. Test foundation on jawline
It's the worst to test your foundation in the store under that horrible fluorescent lighting, only to go home and find that it's not the right color at all. Instead, we suggest swatch testing on your jawline, and doing that test in natural sunlight so you can accurately assess the situation — even if it means leaving and re-entering the store after taking a #goldenhour selfie. Black Radiance and Fenty Beauty both have options that melt into the skin.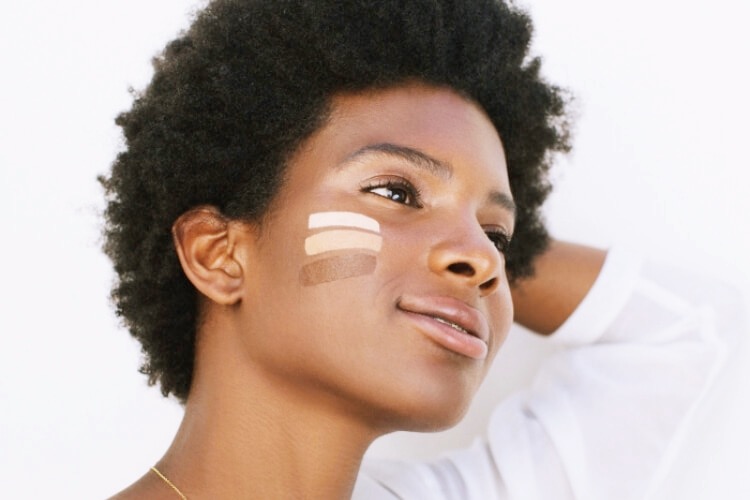 4. A matte powder that matches is a must
Avoiding shine and keeping a matte appearance is sometimes harder for those who don't have fair skin. Try to find a powder that matches your skin tone, since translucent powder can sometimes give a white or washed out appearance to skin when you should be enhancing that glow. With the right powder, you might not even need any other makeup.
RELATED: 10 First MakeUp Products People Used In Ancient Times
5. But don't go too matte
While a matte powder can reduce shine, going overly matte makes your skin look caked on and makes you look older than you really are. If you have naturally dry skin or are looking to balance out a matte product, use a liquid or cream foundation which will blend better and give a chic no-makeup look. 
6. Layer highlighters
Some makeup artists suggest layering three different highlighters on dark skin rather than using one. Doing this stops your skin-tone from looking flat, especially after you've applied a matte foundation or powder. The Killawatt Highlighters by Fenty are perfect for this purpose. 
7. Remember your complexion can be more than one tone
Even skin is something we all strive for, but it's just not a reality for most people. Makeup artists suggest to find a foundation by starting in the center of your face, which tends to be the lightest point. This allows you to highlight and conceal while you find the natural points to contour. 
8. Experiment with shadows
Eye shadows are sometimes a hit or miss when darker skin is the canvas. Play around and experiment to see what color works for you. You might prefer two-tone or bold colors. And while frosted shadow is still a no-no, a neutral shade with some shimmer can help bring out your natural luminescence. Additionally, you'll want to find a shadow with good pigmentation, so it looks similar on your skin as it does on the palette.
RELATED: 10 Lipstick Colours For Indian Skin Tone
9. Use a brush to apply foundation
No matter if you use a stick, liquid, or cream foundation, applying with a brush is important, as it makes coverage look smoother. Start with broad strokes, and using your brush, begin in the center of the face, brushing out and buffing the product in with a circular motion. Buff until it's blended evenly. Concealer can help with discoloration, a common issue for darker skin. You can also buff concealer into skin naturally with a brush, which will make it look more blended and natural.
10. Don't cheap out
While light skinned girls can sometimes afford to go for the budget-friendly drugstore options, unfortunately, inclusive makeup comes with a price. However, with that price tag comes increased quality and a product that will last much longer than its cheap competitors.  
11. Enhance brows
The brows are just as important as finding the right foundation — they frame your eyes, after all. Whether it's tweezing to accentuate your natural arch or using a pencil to accentuate the look, a gorgeous brow can entirely change the look of your face and transform you into an instant supermodel.