Crocs were once dubbed the ugliest shoe ever. But celebrities are here to change this brand's bad reputation. Ever since Nicki Minaj wore those pink Crocs, their online searches have gone through the roof. Additionally, since the rapper and other stars have been reinventing this style, it`s become a #1 best-selling item on Amazon! It also caused a 4,900% spike in pink Crocs sales.
Some of these celebs are so passionate about the comfy rubber shoes that they've done collaborations with Crocs in the past, while others are just huge fans, wearing these kicks wherever they go. After all, stars lead busy lives, and you can't be spending those chaotic days in shoes that don't fit or give you blisters. Here are the most notable famous people who have supported the controversial Crocs brand in one way or another, and make it look way better than us normals do. 
1. Nicki Minaj
Of course the queen of hip hop managed to launch a once nerdy shoe into the world of avant-garde high fashion when she wore pink Crocs with a matching all -pink outfit — featuring Chanel, of course, and the rapper in a sultry pose with artfully placed pillows. 
2. Justin Bieber
The Biebs wears Crocs so much, he went as far as partnering his label Drew House with Crocs for a line of bright yellow shoes. He claims it's an authentic partnership because he wears them "all the time" and wanted to make "something cool that I want to wear."
3. Bad Bunny
Bad Bunny has done a limited edition Crocs release himself, just like Justin. He made us all swoon when he appeared on The Tonight Show wearing a lime green model of the shoe, coordinated with a jacket that was bubblegum pink. Here he is wearing a glow-in-the-dark version of it, with an all-white outfit. 
4. Ariana Grande
Only Ariana could make Crocs look adorable — she styled her white clogs with white ankle  socks and an oversized hoodie. Casual chic, much? TBH, we might try this look at some point now that we've seen her pull it off.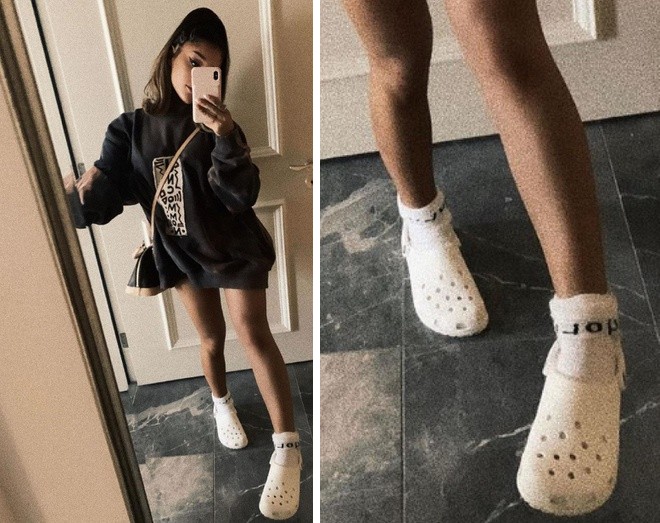 5. Drew Barrymore
Of course Drew's 2018 line with Crocs had words like "love" and "happy" adorning the side of the sole in her collection. It was Boho fabulous, just like everything the hippie star touches. In the ad, she's literally wearing them in as she sits in a pile of flowers. As always, Barrymore is whimsical as ever. 
6. Ruby Rose
Ruby Rose supports Crocs since it helps her in her fight for justice and equality. One of her looks included rainbow, platform Crocs with "Just Love" printed on the back. She also designed a more nostalgic 90s inspired shoe.  Her designs are the most unusual out of the Crocs collabs. Back in2020, she matched her clogs to her pink and blue hair, wearing one pink Croc, and one blue Croc. 
7. Post Malone
The tatted rapper has done a whopping four collabs with Crocs, and it makes sense. He's never been afraid to stand out from the crowd. Weirdly enough, the third partnership was only released in Australia. The musician has them in everything from camouflage to polka dot.
8. Questlove
When attending the 2021 Oscars, Questlove wore a dapper, kimono inspired jacket with a chic mask and gold Crocs. The shoes looked as though they had been spray-painted metallic gold, but with such a low-key work, they really work as a statement piece!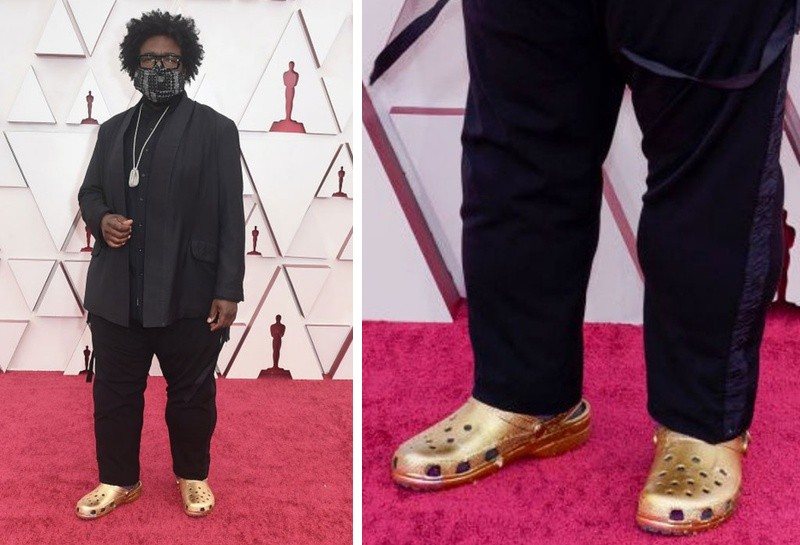 9. Whoopi Goldberg
Whoopi was one of the first to hop on the Crocs trend, proudly rocking the rubbery foam shoes at the 2013 Tribeca Film Festival in a sassy print that matched her handbag. Well, one of them at least. 
10. Priyanka Chopra 
If a mega babe like Priyanka can rock Crocs with confidence, then they're officially a cool girl shoe. She's worn a black glitter version of the shoes in this stylish IG shot, and in an ad where she's repping the brand, she dons a more demure turquoise pair.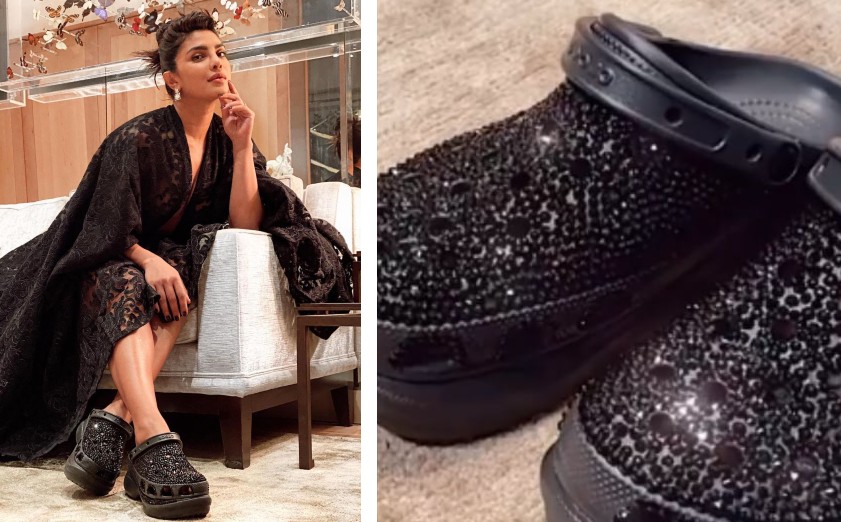 11. Romeo Beckham
We're not sure if anyone's looking at the shoes in this shirtless cooking shot of Romeo Beckham, but sure enough, Romeo is a fan of the brand, and has multiple pairs. His favorite color to wear them in is yellow. Honestly, this looks like the comfiest outfit ever.